Exclusive Custom Buckets
"nobody wants an ugly bucket..."
Welcome To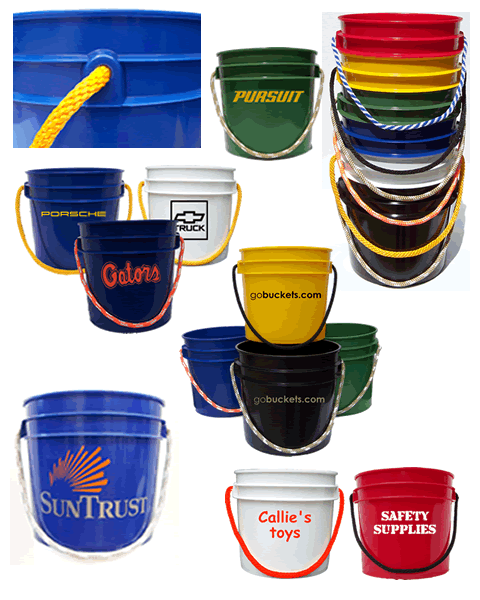 About Our Buckets
Buckets are used for many products and thousands of them are made every year. You probably have one or two ol' 5 gallon buckets that you use... that started life as something else...Perhaps it held paint or kitty litter or oil...It is probably white or grey and has a rusty metal handle and cracked plastic grip and has some corporate logo on the outside.
A gobucket is a premium bucket that you can be proud to own and use. Our gobuckets are made for you!...not paint or kitty litter.
Our gobuckets are offered in a variety of COLORS and made from durable 90 mil, heavy duty plastic. They are molded and reinforced so the shape of the gobucket will not deform and they can nest inside each other for easy storage. Our standard size is 3-1/2 gallons. We found the ol' 5 gallon bucket can often be too large or hold to much weight for many people. Our standard gobucket takes up less than one cubic foot of space. Of course, we also have 5 gallon gobuckets available. Standard Colors are WHITE, BLACK, RED, BLUE, GREEN, YELLOW, ORANGE and GREY.
We designed and patented our rope handles to be stong, easy to hold and look great. Each rope handle is custom fitted to your gobucket with a patented pending process that uses a stainless steel plate to lock the rope to the gobucket. There are no holes drilled through the gobucket or large, unsightly knots that can can come undone.
Our rope handles are available in a wide range of colors...We use premium single or double braided synthetic rope that is UV and mildew resistant and will maintain its great look and feel for many years.
For wholesale and larger orders, we can custom design your rope handles in up to 16 different rope colors and over 64,000 different color combinations! Along with eight different colors of gobuckets...your choices are almost limitless!
Each gobucket can be customized with your choice of names, your logo or corporate brand, etc. You can decorate your gobucket in any way you choose. Get them in contrasting colors...RED, WHITE and BLUE! Show your school colors! Decorate with RED and GREEN for the Holidays! BLACK and GOLD for a classic look.
All of our gobuckets are custom made and assembled in the USA! Each gobucket is individually bagged, ready to send as a gift.